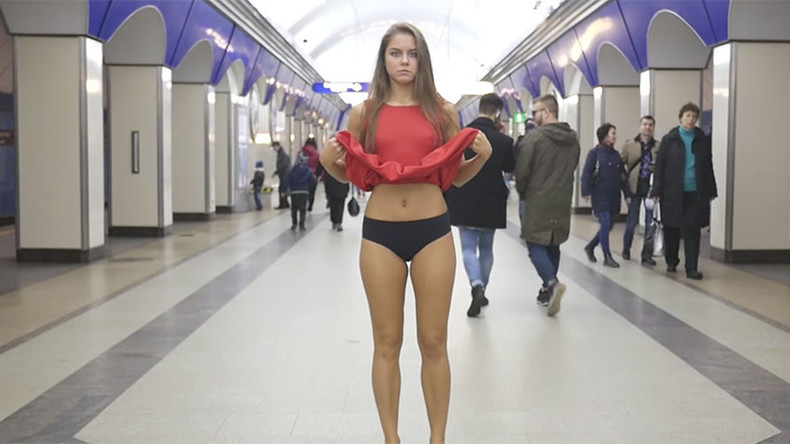 © Канал Анны Довгалюк / YouTube
Anna Dovgalyuk, a Russian student, is tired of the practice known as 'upskirting'. What's upskirting? Men so desperately horny and in dire need of contact with women, who – of all possible ways to interact with women- choose to film under women's skirts… Usually with simple mobile phones, but in 10 percent of cases a specially made device is used.
In the caption of the video she says: 'So take a look at what we have under our skirt and don't come near us anymore!' In the description of the video she says she doesn't have the power to change the law, but that with her 'video manifest' she wants to draw attention to this problem that should be criminalized. She made the video on behalf of all the women who have been the vicitim of 'upskirting' creeps. The images are often sold on the internet, by the way.
The people who will be the loudest about this, are, sadly, the ones who support the objectification of women most vocally.The activist is already under fire from Total Douchebag forums such as this one. Predictable reactions are: 'I hope this movement catches on', that she's only seeking attention and one guy needs to throw in his two cents with the comment: '
'The women who are most uptight over the idea of upskirts are those who are least likely to be a victim of it. This woman is an oddity in that respect'

A popular comment on her video reads: 'Ахааа, бабы есть бабы, ничего придумать не могут кроме как показать свою поппку)))))' Translation: 'girls will be girls, they can't think of anything else except showing their ass'
Other than that they rate her beauty and compliment her for having a nice 'thigh gap' (= the latest addition to the wide array of demands that are made by men in order to say that a woman is 'hot'…)
Perhaps it's time we start to think about a serious collective government programme to somehow help men be sexually satisfied with harassing anyone.
I have absolutely no idea how that programme would look like, but I think society would be a whole lot better off if men weren't so sexually frustrated and deprived (which is in no ways an excuse to shove a camera between a woman's legs…) Clearly, we need a men's programme to help them get rid of their abundant sexual energy in a positive way.
Any ideas?